START USING TELEHEALTH RIGHT AWAY
Considering the recent events with COVID-19, WRS has expedited the release of a new Telemedicine functionality. We are pleased to offer this functionality to current WRS clients at no cost until June 30, 2020.
This new functionality, originally scheduled for release later this year, is currently being used by a select group of practices. We'd like to extend the opportunity to all WRS clients to make use of this new functionality and offer feedback.
It is our sincere hope that the use of this tool will enable our provider community to more safely and effectively offer patient care during the Covid-19 Pandemic.
This service is free until June 30th, 2020
Please click the button below to sign up, fill out your information and send the attached file to telehealth@wrshealth.com with the subject line - "Telehealth Sign Up"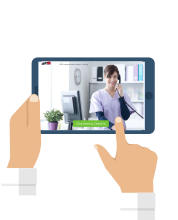 Telehealth Sign Up